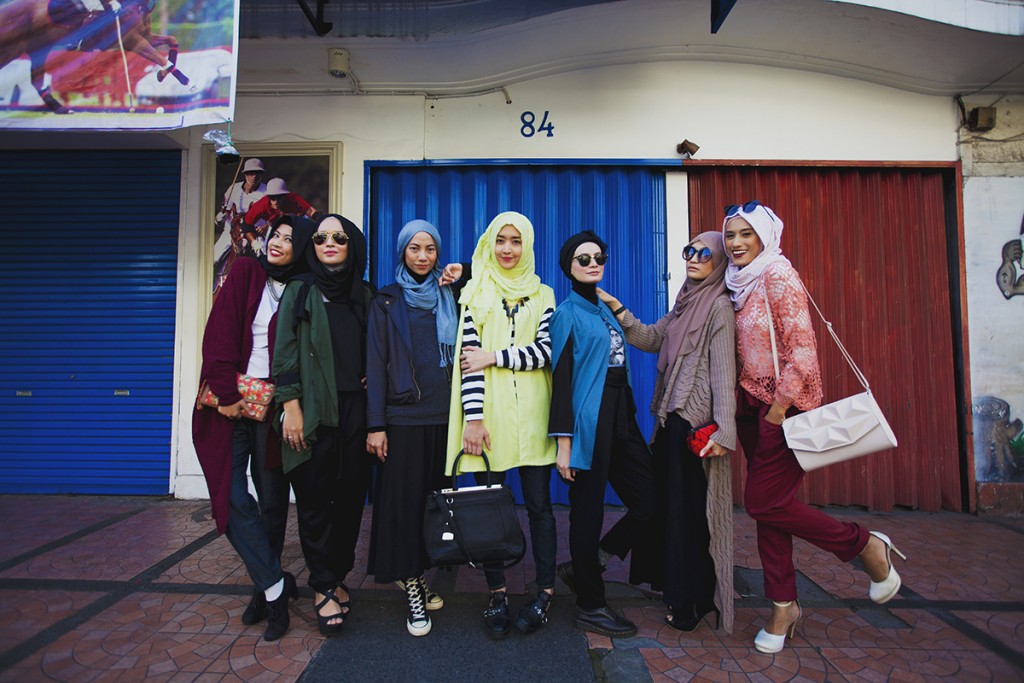 A Brief History:
The debate about the veiling of women has been ongoing for decades now. Many believe that the veil is symbol of women's oppression; a marker of a woman's "second class status". However, there is also a great magnitude of people who believe that the veil is not a symbol of injustice, but a shield against possible objectification. A great pool of women choose to wear a hijab, burqa, niqab, etc. voluntarily as a sign of their personal freedom.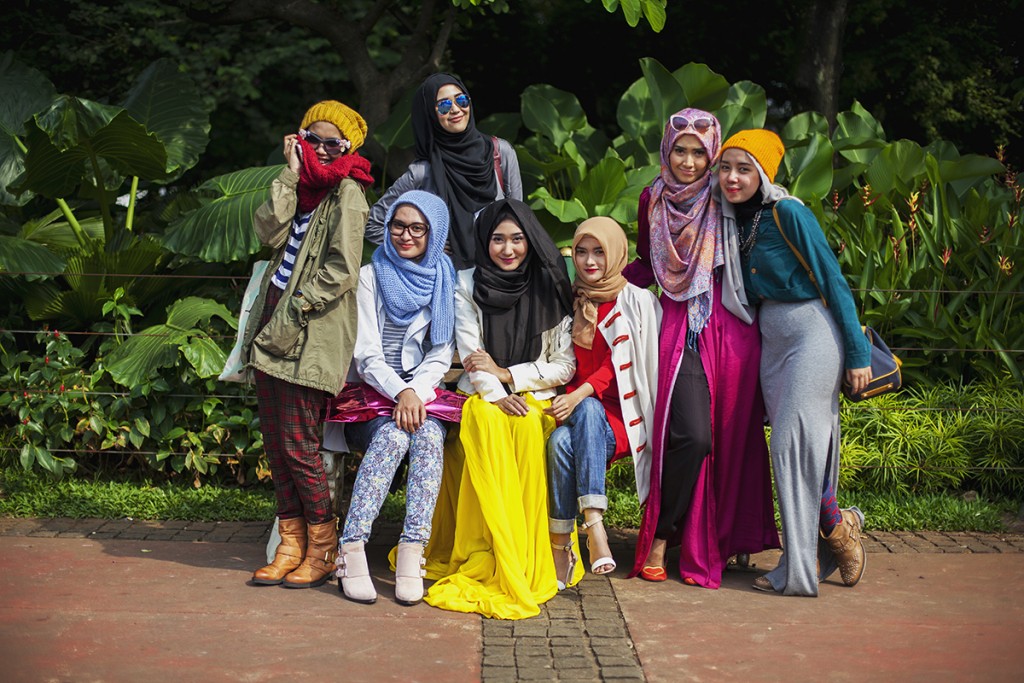 What is the hijab? A Hijab is only one kind of headcovering that is worn by muslim women all over the world. It is an Arabic word meaning "cover" and there are many different forms, colors, patterns, styles, etc. Some Christian and Jewish women in certain traditions also sport a headscarf for cultural practices of modesty. The garment holds different legal statuses all accross the world. Especially in many parts of Asia and Africa, it is common to see the head-covering tradition. Modest fashion is also becoming widespread across the West, believe it or not.
This being said, at Cinnamon Spirit we value the power of choice. Whether women are wearing head coverings or not, we know that these women are beautiful inside and out, covered or not – and we have provided some excellent fashion tips and tricks for a modest outfit regardless of culture or religion.
Level One: Short Shorts
On a cold day in Amsterdam, this brown beauty keeps her outfit warm and appropriate by pairing pleather leggings and denim shorts with ultra-blue high heels. She has accented her shoes with a collared shirt under her tweed sweater. Her white blouse that is tucked into her shorts is buttoned high for a prim and very proper look.
Level Two: Just a simple scarf
Dark skinned and just oh-so-darling! This woman is dressed very stylishly and modestly. Her over-the-knee suede boots are paired with black leggings and an over-sized t-shirt. Everything is pretty neutral until BAM! A vibrant head-scarf is wrapped around her hair bringing the outfit together!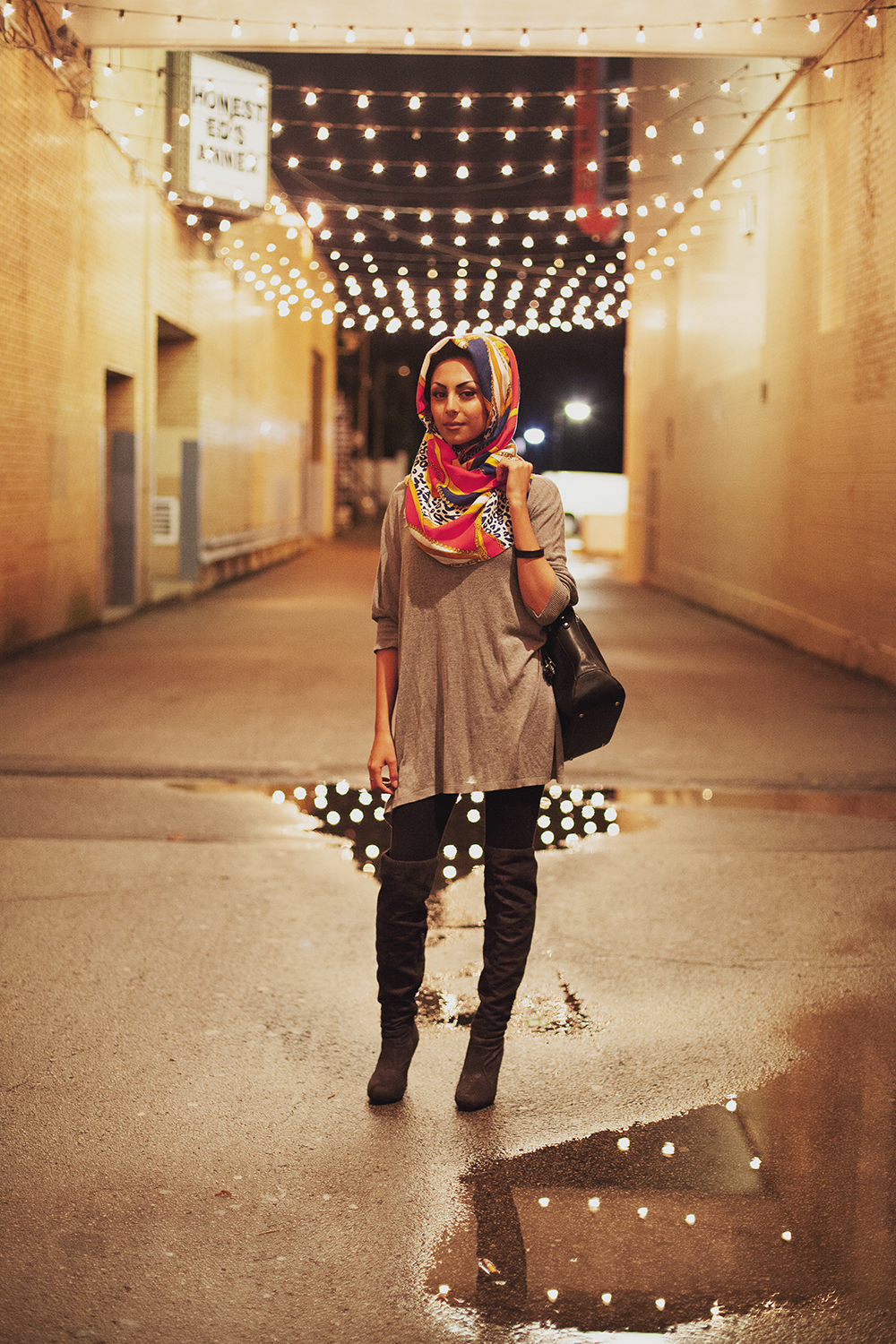 Here is another example of a more structured outfit paired with a textured hair-wrap.  A military-style white jacket with black buttons is on top of what looks like a white t-shirt and casual skinny dark-wash blue jeans. Her brown leather briefcase and peach watch work great with her skin. The burgundy lipstick really warms up the look as well! This gorgeous woman is just glowing in the streets of New York City. There's much to be said about her poise and beauty.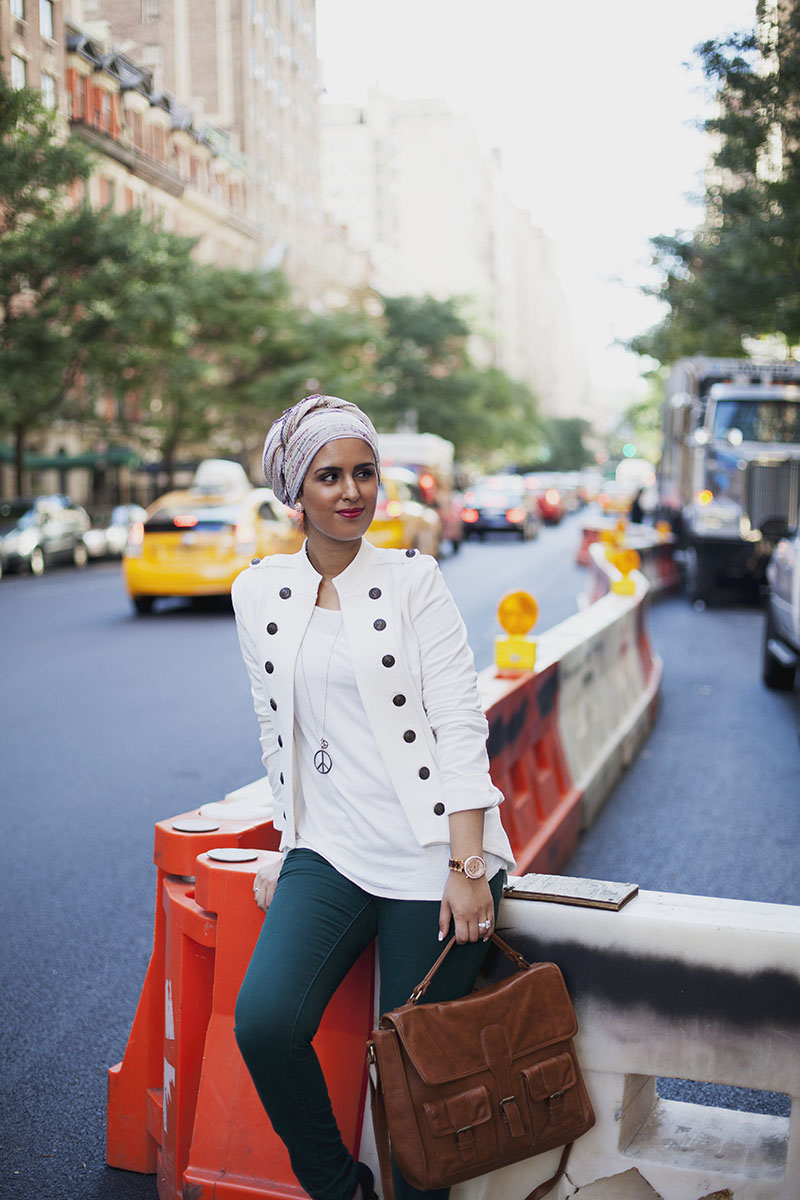 Level 3: More traditional
Here, this woman brings her culture into her day to day style. she is captured wearing a long-sleeved casual Anarkali (Indian-style dress that is paired with skinny cotton pants) with fabulous geometric print on the bust. She is able to draw attention to her small frame by her bold style. Her skin is radiant while surrounded by the canary-yellow veil she is wearing. The golden chain head-band makes this woman look like a princess!