It's Holiday Season again! All around the world people will be celebrating winter holidays like Pongal, Christmas, Kwanzaa, Thaipusam, and of course, bringing in the New Year (Jan 1st, 2015). If you're searching for the perfect dress to show off your beautiful brown skin tone, what better way to sparkle than wear sequins!
Mindy Kaling – writer, comedian, star of her hit show The Mindy Project, and absolutely fabulous brown skinned fashionista embraces sequins as well as chunky jewelry and bright colors. Where many women of color will shy away from these kinds of bold moves, at Cinnamon Spirit we think you should be the shining star of the party!  Mindy agrees "I wear all of those things, because I like looking at it. It makes me feel happy and excited to wear it." In the photo below, she wears a beautiful dress and skirt combination. This scene was from the Pilot Episode of The Mindy Project, and to be honest she looks gorgeous! I love that the kind of sequin pattern on top is so much different than the metallic embellishment on her skirt. From far away, it looks like a dress, but when you look closely we find that Mindy has connected the 60s disco-ball and the Victorian Era in the best of ways. While Mindy's outfit does technically break the mixing-prints rule in fashion, it is a definitely haute look that I think any brown woman could pull off.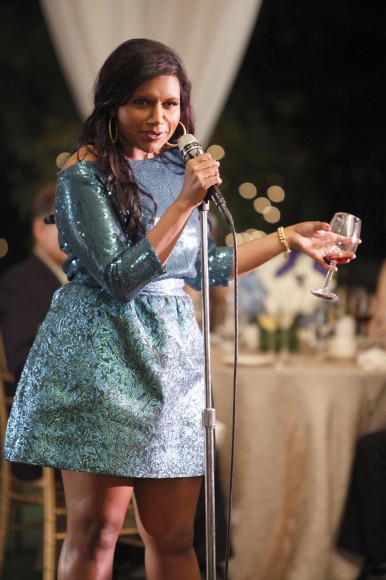 Anouksha, 21 fashion blogger from the United Kingdom has found a way to glitter during finals week. Here, she wears a black bomber jacket from H&M, black stockings, and casual tan booties from MissGuided. Paired with her gorgeous vintage flapper, and stuffed bagpack, she get's an A+ for style.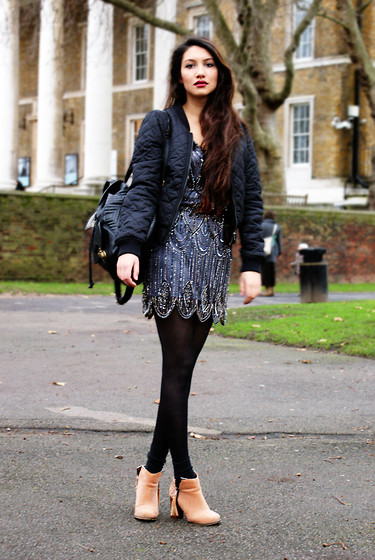 I found another stunning gold and black sequin dress from BeBe while looking for my own sequined New-Years-Me Dress. I can't tell what is more radiant, the model's deep brown skin or her dress. I'm too focused on how happy she looks while twirling around in it!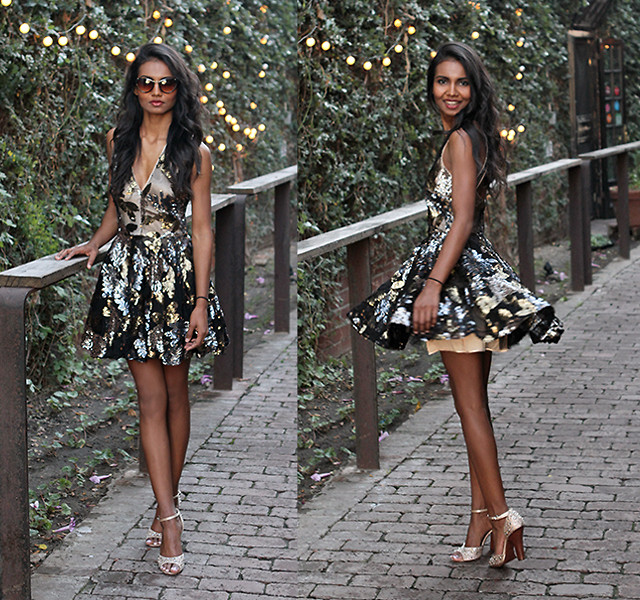 So maybe, you're working for the holidays. You can still bring your briefcase of glitter with you! Katerina L., a 27 year old from Voronezh, Russia wears her sequins subtly. This outfit is a perfect day to night outfit that can be worn at lunch with friends, and then again at office party. Her sweater is also from H&M and her skirt is from Mango. She and her skirt, look delicious.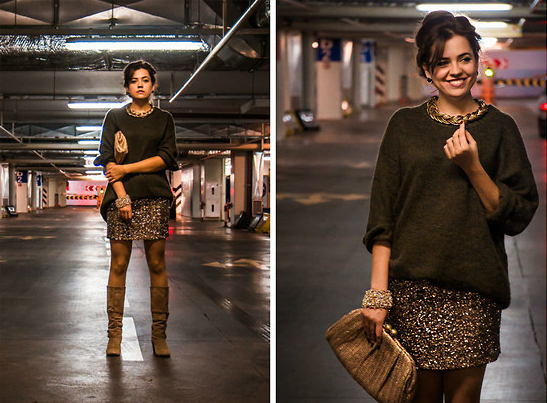 My personal favorite is an Etsy Legend worn by a beautiful Indian Model, Menaka Iyer. She is 23 and from Toronto, Canada. I'm sure once you see this dress, you'll be dying to have it.  She wore this vintage, one of a kind dress to New York City for the first time. "I had my first mimosa in NYC – Dream come true!" Menaka says excitedly. Although I couldn't find the dress's link, I did find that her feather earrings are from Spring and her muted (but also black sparkly heels) are from Nine West.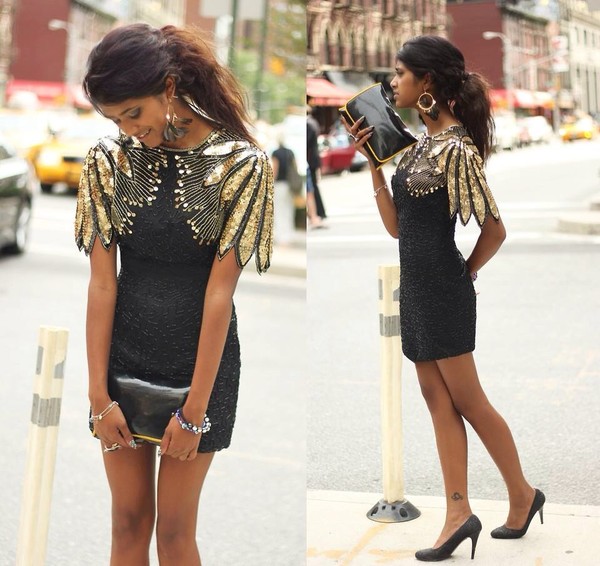 Obviously not many of us can afford to splurge and spend thousands of dollars on a holiday dress (we're too busy getting presents for our friends and family), so I've compiled a few under $50 options: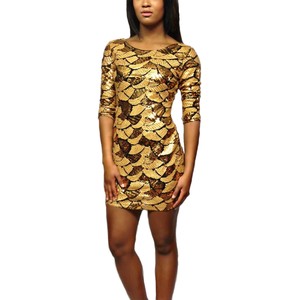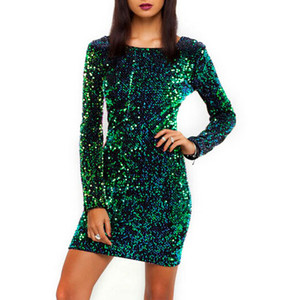 Stay tuned to see what sparkles I picked for my holiday dress! Stay warm this season my brown-skinned beauties!