Early Days … Still less than 10 years ago
Ramya Ramana's early childhood would resonate with many of us, Cinnamon Spirit people.  At a very young age, she was made aware of her dark skin and it didn't help that being a first generation American, she grew up in a mostly white suburban town. Being bullied for her hair/skin/culture… strangeness, was part of her school days. She admits that she went to many different schools and her grades were not going to get her into a good university. Let's just say, things weren't looking very bright for our little Ramya.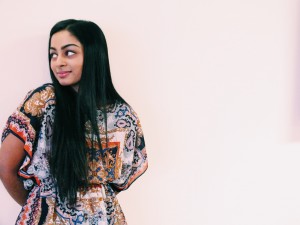 GOOD CHOICES
During the tail end of her high-school days, Ramya's interest in poetry had her pursuing poetry as an interest. A hobby. She found herself amidst confident people of every color and was influenced by them. She learned from them and discovered strengths in her. Sometimes we need others to help us see it. She had the revelation … "Nothing is wrong with me. I have to choose how I see myself"
THE POWER OF MENTORS AND SOCIAL WORKERS
Ramya's journeys in poetry lead her to Erica Miriam Fabri, who became her mentor and encouraged her to apply to the Creatively College Bound Program at Urban Word. Ramya did and won a full scholarship to St.John's University. Soon after that she was elected the Youth Poet Laureate of New York City.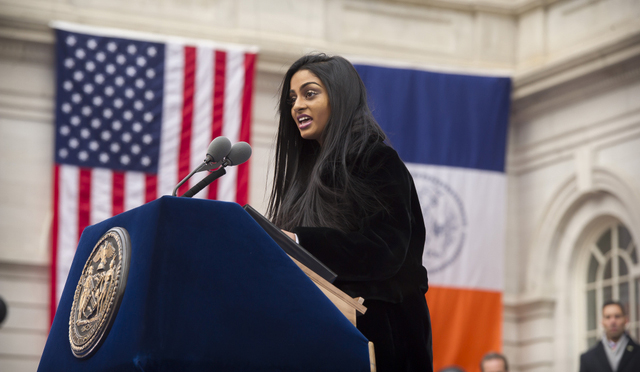 Soon after, Chirlane McCray invited Ramya to speak at her husband Mayor Bill de Blasio's inaugural ceremony in New York City. This and Ramya's thirst to make a difference lead her to perform at close to 200 venues. Sharing the stage with the likes of Harry Belafonte, Rosario Dawson, Hillary Clinton,  Nina Davuluri and President Bill Clinton.
WHAT WAS SPECIAL ABOUT THE LAST YEAR?
When asked this question Ramya said she was surprised at the number of Indian girls, her age or younger who came up to her and said they'd felt mistreated for their color as well but had not found the courage to talk about it.
She also admits to learning about navigating the corporate world while you have social justice in mind. This is a problem people with years of legislative experience still have trouble with. However, Ramya says this year has been so powerful when it came to learning.
WHAT'S HER MESSAGE TO THE WORLD
When asked about her message, she said …
"Social activists are misunderstood. We are not angry. We do what we do out of love."
After travelling extensively to perform at venues across the country, Ramya has decided to take some time for herself to recharge.
From being unsure of who she was to becoming a role model to the most cosmopolitan city in the world, Ramya recognizes that she has come full circle. Her incredibly inspiring work makes her one of New York's Young Revolutionaries.